Getting To Versailles by Vespa
Travelling by train remains the cheapest and most popular way for visitors to get to the Palace of Versailles by public transport, however if you are only on holiday in Paris for a couple of days and want to make your visit to the Palace of Versailles unforgettable, we advice all 2-wheel lovers to get to the Palace of Versailles by Vespa scooter.

How to get to Versailles by Vespa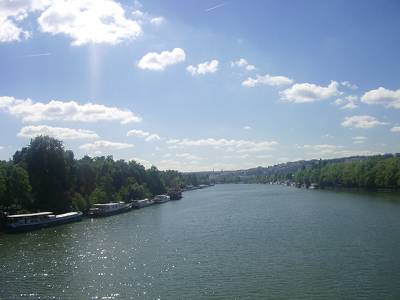 The Palace of Versailles and its splendid park are only 15 kms (9 miles) away from the City of Light, and it will take you 1h15 to get to the Palace of Versailles by Vespa driving through pleasant country roads. For added convenience, the company Paris By Scooter, based in Paris, will drop your scooter off at your hotel in the centre of Paris. Your French guide will open the way and drive you through Paris, the Bois de Boulogne, along the Seine river and typical villages located in the select western suburbs of Paris. You will then ride through a nice wooded area and into Versailles, stopping at the main entrance gates of the Palace and then will take a secret entry to get in the 2000 acres of the park of Versailles itself ! This entry will enables you to skip the long line you would have to queue otherwise.
Tour Versailles Palace or explore the French countryside by Vespa scooter
Tailor the rest of your day to suit your mood and Paris By Scooter will adapt to your special wishes including :
Visit of the Palace by yourself, with a group, or with your very own English-speaking guide (other languages possible)
Visit of the gardens.
Visit by Vespa of the main Park which covers 800 hectares, driving past the Petit Trianon, the Grand Trianon and the Queen's hamlet. You'll take a side entry, unknown by tourist and will avoid the crowd.
Lunch by the Grand Canal in the Palace Park. You can choose between having lunch in a restaurant or taking a picnic which can be bought on the way to the Palace by stopping at the Notre-Dame market. This covered market built under Louis XIV boasts a rich selection of food stalls where very friendly vendors offer fresh fruit, vegetables, a large choice of cheeses and charcuteries, and to complete your French picnic, good, crusty baguettes.
Visit of the park in Marly le Roi, a beautiful park Louis XIV would visit in small committee on week-ends, only taking along his family. The Château of Marly-le-Roi disappeared a long time ago, however a very big park remains which offers superb views of Saint-Germain-en-Laye.
Visit of the castle park of Saint-Germain-en-Laye and the room in the castle where Louis XIV was born.
Drive your Vespa through the domain of Saint-Cloud. This 450 hectares wide domain which used belonged to the royal family, is now owned by the State. From there you can enjoy breathtaking views of Paris and during the summer months, three restaurants are open for visitors to enjoy the beautiful surrondings.
Watch the promo : 1 day in Paris by Scooter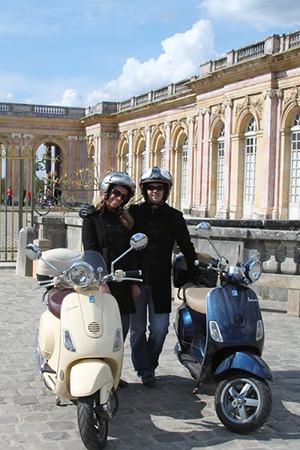 Day trip to Versailles – Booking and schedules
By riding a Vespa scooter you will save time and see a great many things you would not otherwise have been able to visit.
See prices, schedule and booking conditions on the website : https://parisbyscooter.com. When booking you Vespa do not forget to mention ParisToVersailles.com in your mails to benefit from a 5% discount off Paris By Scooter services.